The Excitement of Playing Blackjack Online
Playing on the Best Blackjack Sites
6000€ Bonus
30€ free bonus
9 Blackjack variations
Live Dealer Blackjack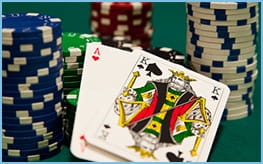 .
£100 Bonus
£88 free bonus
Live Blackjack
.
200€ Bonus
14 Blackjack games
20 free spins
Blackjack has always been one of the most popular casino games played by millions of players in casinos all over the world. There's probably not a single person on this planet, that hasn't at least heard of it, especially nowadays when pretty much everybody can play Blackjack online from their computer, tablet or even Smartphone. We probably wouldn't make an overstatement by saying that this game ranks first among all casino games all casino games.
But what exactly makes Blackjack so attractive to casino players? Probably the fact that it leads players to make strategic decisions about their further actions while playing, as opposed to the majority of the casino games which rely solely on luck.
Play the best online Blackjack games at EuroGrand Casino now!
We have to admit that this sort of bets-focused games are pretty exciting themselves. However, Blackjack not only doesn't take the excitement away from the betting, but also gives some additional involvement of strategy thinking and decision making, thus increasing the fever during the game.
So, depending on how well you perform while playing, you can do great in the game of Blackjack and therefore see better results. This makes players look to improve their Blackjack skills which, in fact, is not so hard to do. All the best Blackjack sites offer tutorials and even free bonuses to give you time to acquire some skills and improve your game before you start betting your own money.
How to Play Blackjack – the Basics of the Game
We always encourage our readers to play responsibly and to get to know their games well, before they start betting real money. The same is true for Blackjack and so if you've never played this great casino game or if you haven't played it for a while, make sure to read the next paragraphs carefully.
The game of Blackjack has quite a bit of variations, but there are rules that apply to all of them. For example, in all games of Blackjack players try to achieve a card count of 21 or as close as they can get to 21 without going over. If they go over, that is called 'going bust' or 'busting', in which case the hand is over for them and they lose the bet amount. If neither the player, nor the dealer, whom we play against and represents the casino, goes bust, the higher hand wins. The card count follows these rules:
The numeric cards' value is equal to their number on their face;
Aces count as 1 or 11, whichever is best for the player or dealer;
Jacks, queens and kings, in other words 'face cards', all have a value of 10.
After hands are dealt, players have the options to 'hit' (get another card), 'stand' (in which case their turn ends), 'double' (which double the wager and gives the player one more card) and in some cases 'surrender' (player retires from the hand and gives up half a bet). In certain situations the players are allowed to 'split' their hand and this way play with two. Some version of Blackjack offers a side bet, called 'insurance', when the dealer's card that's facing up is an ace. Another time of side bet is the 'Dealer Match', in which case the player wins if his cards match the dealers up card.
Given all these options, players obviously have some decisions to make, when they are dealt their hand and exactly that is the beauty of Blackjack – it's not only a game of luck.
As for the dealers, they play according to certain rules and don't have the ability to choose their actions, nor to double, split or surrender. In most Blackjack games dealers hit until they reach a number equal or higher than 17, after which they stand. If the 17 is made of an ace and a six, this is called 'soft 17′ and usually the dealer has to stand, but in some variations of the game they are allowed to hit, which increases the house's edge of winning. This is why we would advise you to choose to play Blackjack games in which the dealer stands even when the 17 is soft and overall to read the specific rules of the Blackjack variation you've chosen before you start playing, as they sometimes vary according to the casino and the software provider.
Try All the Best Online Blackjack Games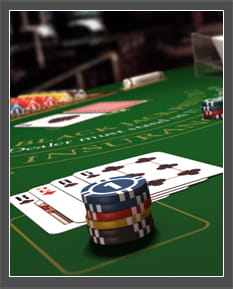 One of your best choices when playing at any online casino is to play Blackjack in its classic version, since it has the minimum house edge of just 0.13%, which gives the player a chance for winning unmatched by other casino games. All the best online Blackjack sites offer this great game, which obey the following rules:
Classic Blackjack is usually played with a single deck of cards which is shuffled after every hand;
The dealer is obliged to hit when his total is under 17 and to stand on either soft or hard 17;
A Blackjack is paid 3 to 2 on your original bet and winning insurances – 2 to 1;
Players can split only cards with the same denomination.
These advantageous rules in combination with a simple Blackjack strategy could improve your chances of leaving the game with a positive change in your account balance.
A great strategy, for example, is to always stand if you have a hard hand between 17 and 21 and a soft hand with a value of 19 or 20. Another great tip would be to always split aces.
Of course, there are many other tips and strategies that you could use, but the main thing is to know well your game and to play according to your hand and to the dealer's one. But if you decide to play the classic version of the game, you've pretty much already covered half of your strategy.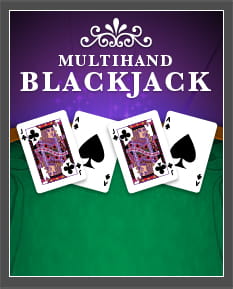 Multi-hand Blackjack is a very exciting version of the game in which players are given the possibility to play multiple hands at the same time. This Blackjack variation is played with two decks of cards and has its own special set of rules:
Players are allowed to double on any two cards and even after a split.
The dealer is obliged to hit a soft 17, instead of standing.
Players can split any two cards that have the same value, even if they are different.
The dealer will check for Blackjack if holding a ten or an Ace.
Blackjack pays 3:2 and winning insurance – 2 :1, just like in classic Blackjack.
The deck is always shuffled before the beginning of the hand.
Taking into account the abovementioned rules, the house edge is close to 0,4%, which is quite more unfavourable to players than other Blackjack games, but it definitely gives players more possibilities and entertainment and with a solid strategy maybe even more winnings in shorter time.
You have to consider also than not every casino has the same rules for this game, even though it's pretty much always called the same. So before you start betting real money we would advise you to carefully read the rules at the casino site you've chosen and, if possible, to play at least a little bit in 'fun mode' with play money.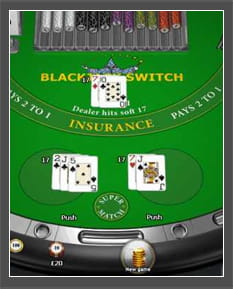 Blackjack Switch is a Blackjack version that gives a totally new and exciting twist to the game. In this variant players have two hands with the same wager and they are allowed to swap cards from one hand to another. This gives them a great advantage, but in order to level the field out, there's also a rule that states that if the dealer gets a hand with a total of 22, it's considered a push and not a bust hand. Another special rule of this version is that Blackjack will pay even money and not 3 to 2 like in the classic variant, but the insurance is still paid 2 to 1. Also, the dealer will always hit a soft 17, instead of standing.
Other special rules that you need to consider before choosing to play Blackjack Switch, is that the number of decks are usually six or eight and the deck is shuffled before every hand.
Another factor in the player's advantage is that doubling is allowed on any two cards and even after a split. As far as the switching rules go, players can swap at any time, even if they have Blackjack, but only the second dealt card from the first hand with the second dealt card from the other hand.
Given the fact that there are so many factors to consider and so many special rules you would probably be surprised to know that this great Blackjack game actually has one of the lowest house edges out there. For example Playtech's Blackjack Switch gives the house the slight advantage of 0.16%, which is only 0.03% more than the one in Classic Blackajck, while offering so much more excitement and options to choose from.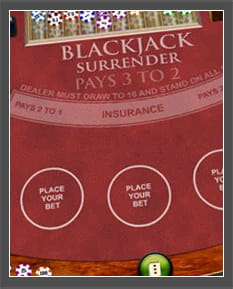 Blackjack Surrender is a variation of the game that can be found in most online casinos. It pretty much offers the players the possibility to give up a hand for half the betting amount, but only after the dealer has checked his hand for a Blackjack.
This additional rule is actually a great way to increase your chances against the dealer, since in many cases surrendering your hand is your best option. If used properly, with a good strategy, this game could be considered the Blackjack variation with the lowest house edge out there.
There are many strategies as to when to use the surrender option, and most of them involve the Dealer showing an Ace or a 10. But since there are actually different variations of Blackjack Surrender itself, it depends on the specific rules of the game. You should always consider if you're playing with one deck or more, if the Dealer is allowed to hit a soft 17 and, of course, what's the card that he is showing.
For example it's a good idea to take a Surrender if you have sixteen and the Dealer shows a ten in a game where he can hit soft 17, but it's not advisable to take it in a single deck game where the Dealer stands on a soft 17.
So, in conclusion the most important rule when playing Blackjack Surrender is to know very well the exact rules of the game you've chosen, so that you can adopt a suitable strategy that can significantly increase your chances.
Play at the Best Blackjack Sites for Maximum Bonus Opportunities
If Blackjack is your favourite game or you just like to have it in your game selection, then you can do no wrong by choosing any casino. But if you want to take advantage of the best bonus opportunities and play in a safe and secure environment, then we would strongly advise you to choose only the best-known and well-affirmed casinos all of which you can find in our website.
And even though every single casino online offers classic Blackjack, you should be aware that that's not the case with the other Blackjack games. So if you're favourite game is Blackjack Switch or Blackjack Surrender, then you should definitely check if the casino you intend to play in offers it in its game selection.
Play Blackjack online in Mr Green Casino – the Best Blackjack site!