Play Backgammon Online – Rules and Strategies
Backgammon's Best Site
Free Games
Instant play
Thousands of players
Daily tournaments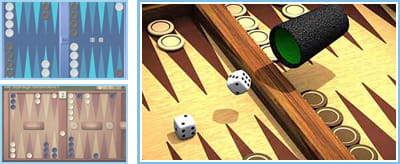 Backgammon has a long and rich history, starting 5,000 years ago in ancient Persia, today's country of Iran. From there, it spread to Ancient Egypt and other empires in the Middle East, then eventually it was taken to Europe, across the Roman Empire and onward.
It actually continues being a very popular game these days, owing most of its fascination to the incredible mixture of strategy and luck that players need in order to be successful at it. It could be said backgammon is very similar to poker or other card games, where skill may eventually win out over luck, but at the same time, there still exists this very strong element of chance in determining the outcome of a given backgammon match.
Of course, skill may cause an advanced player to defeat a less-experienced one, despite possible unfortunate cast of the pieces and roll of the dice.
Play backgammon with thousands of players online at Ladbrokes today!
Backgammon is a lot like chess in the sense that it is easy to learn, but is rich enough to allow a great deal of improvement as one develops their understanding of it and gets better at playing it. This ends up adding greatly to the appeal of the game for players, as they play not only for entertainment, but also to improve and be able to beat stronger opponents in time.
Backgammon Rules
Backgammon rules of play are basically easy and yet, only practice makes perfect. So, as any other game that involves skill, you need to play it on a regular basis, in order to get better and better at it. Backgammon playing pieces may be called checkers, stones or pips, among other things. Whatever you call them, make sure you know how to move them around. The game also needs a board and a pair of dice. The board has a special layout, featuring 24 long triangles called points, 12 on each side. Basically, players need to move the checkers over those points and eventually, off the board. The first player to accomplish this wins the game.
If a player has only one piece on one of the 24 points on the board where checkers are placed, that is called a blot. When the opponent places a checker on the same point, then the blot is hit and placed on the bar – the space dividing the two halves of the board. That checker undergoes a penalty and must re-enter the board at a disadvantage. It should wait for a convenient dice combination, and then begin the game anew from the starting panel of points.
Much of playing backgammon online involves looking to attack opponents' blots and also to defend against setting up blots that the opponent can attack. In addition to this, there is a strong element of organizing the movement of your pieces so you can get them off the board more quickly than your opponent.
A pair of dice are rolled by each player in turn. Whenever you roll, you need to move one or two pieces the total number of spaces indicated by the dice. Here, it is important that if you choose to move two pieces, each of them can be moved the exact number of points shown by one of the dice.
Online Backgammon Strategies
When it comes to online Backgammon strategies, there is plenty to be said. There are certain combinations of moves that have proved to be more successful than others in terms of defense or attack. The fact that there are two players competing already means that is a game where each one will be trying to hinder the other from moving the checkers around the board.
Of course, there is no strategy that can guarantee you victory, since every player approaches the game differently and each one of your opponent's moves affects your next move. The easiest and most direct strategy is to avoid being hit, trapped or held in a stand-off. This is what they call a running game, in which a player moves quickly around the board and is most successful when the player is already ahead in the game.
Another interesting backgammon strategy is building a wall of checkers, called a prime to cover a number of covering points and block the opponent's checkers. No matter what strategy you choose, the most important thing in the game of backgammon online is to adapt your game play to your opponent's.
The Ultimate Backgammon Experience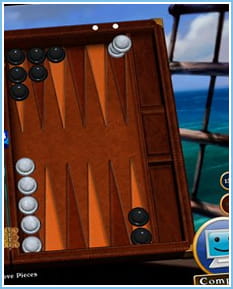 In general, backgammon is a very enjoyable game once you get the hang of it, and still please, take it into account that if you are just a beginner and now learning to play, it may take a little time to fully appreciate the fun. However, the rules of backgammon are not that hard and learning shouldn't take long at all.
With the coming of computers and the Internet, the game of backgammon has taken a giant leap forward. No longer do you need to play against players in a physical setting, which obviously has huge limitations. You may not even be able to play it at all unless you know others who want to play, then either they or you may need to travel to a common location, have the time to play and so on. Now, you have the chance to play backgammon online with thousands of players from everywhere.
With the rise of online backgammon, you literally have the entire world to draw upon as far as opponents are concerned, and you can get into a game with online backgammon players of various skill levels, according to your choice, any time of the day or night, right from your computer. You can also play online backgammon for free, and when you're ready, you can play for real money as well, which is the best thing about all this. There are various stakes from very small right up to high stakes. Perhaps you will become good enough that you may even become a professional online backgammon player, a profession which you can now pursue right from your home.