Unibet Casino Review – Bonuses and Winning Action
.

Why play at Unibet?

Over 7 million players

Listed on NASDAQ SE

Great promotions
When you think of Unibet, you can't help but think of their award-winning sports betting operation. With over 7 mil. registered customers worldwide, they are one of the truly elite online gaming companies in the world. We are more interested in the online casino side of the operation and still, their success as a company in general does influence our view significantly.
As you might imagine, a lot of the Unibet players come over from their sports betting section, and they often do that, because their overall experience with the company has been so great, that they feel fully comfortable with everything Unibet has to offer, including games such as online Poker and Bingo.
If you read some Unibet casino reviews, you will see they usually have positive things to share about their experience, even when they haven't been too lucky. Although it is often the case that players blame the club for their lack of luck, or at least find constant faults with the service or the quality of the games there, Unibet customers apparently remain happy with the time spent on the site.
Try Unibet Casino now and join one of the elite gaming places online!
That is not so surprising, as Unibet is a highly professional organization, and also a publicly traded company responsible to their shareholders. That requires them to maintain the highest business standards and hire professionals who can run their operation. The company's reputation alone is a good enough reason to check out their casino. The promotions they offer, only make the deal sweeter.
Unibet Casino Bonus – Welcome Package Explained
Where1.Unibet is publicly-listed at the NASDAQ OMX Nordic Exchange in Stockholm.
When2.It was started in 1997 and has over 8.2 m customers in over 150 countries.
What3.The brand offers sports betting, Poker, Bingo and games, in addition to their casino department.
More4.They make annual donations to the Gambling Therapy.
There is a nice welcome bonus offer at Unibet Casino and your first deposit with them will be matched by a 100% up to 100€ (the offer for UK users is up to £200). If you are already a customer of some of their other operations, you need not worry – you will be eligible for the welcome offer as long as you make your very first casino deposit, as the operator separates its different businesses. Unibet allows players to maintain separate wallets for each of their operations. So, if you already have your player profile set up, all you have to do is transfer your deposit to see it instantly matched.
If you don't already have an account, then all you have to do is open one and make a deposit through one of the many convenient payment methods accepted there, and you qualify to have your deposit doubled. You do need to be aware that only playing at Casino Red counts toward the bonus wagering requirements. Slots and scratch games count 100%, table games and Video Poker count 10%, while Roulette and Baccarat are excluded. That, however, doesn't concern your deposited funds, as you can withdraw those any time. The playthrough, or bonus requirements apply only for the bonus amounts, and exist to make sure players use the bonus money for their intended purpose – playing more.
Normally, online Slots are the best way to play out your bonus requirements, but there are several other online games as well, on which you can do that. Some operators don't count anything else but Slots towards the bonus requirements, so here is another positive feature, as Unibet gives you some real choice.
They simply must be doing something right to merit this kind of success, so we're sure there are plenty of people curious to try their gaming services. That much has become clear from this Unibet casino review. To make a long story short, this is a really nice place to gamble and if you're looking for bonus money, like you should be, then this is a great option to try out. If you enjoy playing at an exceptionally run online gaming site, then you're really going to like this place. Click on our link to Unibet to discover that for yourself.
Unibet Casino Review – A Great Overall Experience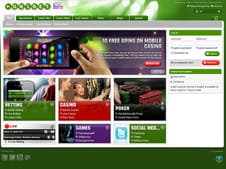 The first thing you see is that Unibet doesn't offer just one, but two casinos: Casino Red and Casino Black. They are similar, yet offer some different online games, and their additional and special features differ, too. Games on Casino Red are supplied by NetEntertainment, and that is the one featuring the welcome promotion. Casino Black is powered by Microgaming and you can't redeem your welcome bonus there. Players may play Live Dealer games, as well as take the fun on their mobile devices, too. In addition, the operator has a nice bonus for mobile gamblers, so you may hurry up and download the app to start your Unibet adventure.
The customer support at Unibet is available in 22 different languages, via email, phone and live chat. They also have a detailed FAQ section for more common enquiries. The operator has gone even further to satisfy more people, and you may play different languages, as well. For many players it could be a real surprise that their language is supported at Unibet casino, as usually we don't see it at many places. So, you can start playing in English, but if for some reason you decide to switch to another language, you just need to select it.
.Live Casino Review.Mobile App ReviewAnother good feature of Unibet Casino is that they use casino gaming software developed by several leading companies, among which Net Entertainment and Microgaming. Their aim is to make the players like them and stay for a long time. The operator endevours to bring you as much variety as they can. That way, you will be able to enjoy a great range of slot games, all latest arrivals and some traditional favourites, too.
Their banking is also well-organized. Of course, their experience as a larger betting and gaming business has had its say and Unibet normally need to process more transactions than an average casino. They boast with various payment methods available and a shorter withdrawal time than most in the field. That is yet another aspect of being professional about your business and the operator cares about your satisfaction.
Characteristics of Unibet Casino
.
SecurityUnibet is a member of the European Gaming and Betting Association, the Remote Gambling Association in the UK and is audited and certified by eCOGRA with regard to responsible and fair gaming. Unibet is a member of the European Sports Security Association, a non- profit organisation that watches for any irregular betting patterns or insider betting. The operator has been audited against eCOGRA's Generally Accepted Practices. All personal data is processed fairly and lawfully and in an absolutely secure manner. It is not kept longer than needed and it is used for marketing purposes based on the opt-out principles. All info sent between players and website is duly encrypted.
.
Vip ClubThe casino doesn't offer any VIP club at the moment. They have two variants of casino action, their red and their black departments. The most excitement is over the tournament and leaderboards, of course, where you can climb levels. A nice loyalty programme would definitely give some advantage to Unibet casino, so that all the points won and the higher rankings in a particular leaderboard could be exchanged for more prizes or special bonuses.
.
Payment optionsUnibet Casino accepts many deposit methods, such as credit and debit cards or bank transfers. E- wallets, Internet- payment services and pre-paid vouchers are also good for funding your account. Deposits appear in it immediately. Usually, you will be able to use the same method for withdrawals. The processing time is longer and you will need to verify your ID. Also, make sure you have no bonuses that have not been redeemed, otherwise they will be voided.
.
SupportThe Unibet customer support is nearly always open for your queries. Players may contact the helpful agents through Live Chat, email or phone. Getting in touch via phone is possible between 10-22 CET. Outside that period, service is limited.